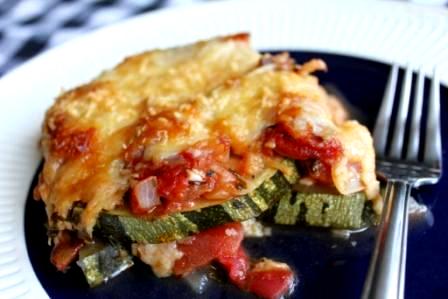 I know, another zucchini recipe. And I'll just tell you now…it won't be the last. (Soon, I'll be trying some Zucchini Peanut Butter cookies. I'll let you know how that goes!)
As part of today's Pennywise Platter Thursday carnival over at The Nourishing Gourmet, I'm sharing my delicious recipe for Zucchini Parmesan. If you find yourself with another bowling-pin zucchini to use, this is the perfect dish to make; it's frugal, delicious, easy, hearty-yet-light, and will feed 6-8 people (or it'll provide you with a weeks' worth of easy lunches, as it is for me this week! 🙂 ) This is my own recipe, resulting many years ago from a combination of desperation and an 8-pound zucchini:
Lindsey's Zucchini Parmesan
6 – 8 servings
1 1/2 cups chopped onions
1/4 cup olive oil
1-2 garlic cloves, minced
28 oz canned tomatoes WITH juice (or from a jar, or from your garden)
1 Tbsp dried basil, or a generous amount of fresh basil (amount is very approximate — add as much as you like)
salt & pepper to taste
One 3-4 lb zucchini, cut into 1/3″ slices (skin on)
3 cups shredded mozarella cheese
1/2 – 1 cup shredded parmesan cheese
Heat oil in a skillet over medium heat. Add onion & garlic, cooking till onion is transparent. Add tomatoes, basil, salt & pepper. Cook, stirring occasionally, for 30 minutes. Preheat oven to 350 degrees. Arrange half of the zucchini slices over the bottom of a 9″ x 13″ pan. Over that, pour half of the tomato sauce, half of the mozarella, and half of the parmesan. Arrange the rest of the zucchini over that, pour on the rest of the tomato sauce, and top with the rest of the cheeses. Bake about 30 minutes. The zucchini should be al dente and easily pierced with a fork (soft but with a little resistance — not mushy). Usually after 30 minutes, I need to place foil over the top of the pan and bake mine for another 15 minutes. However, I'm at a fairly high altitude, so you may not have to do that.
6 Responses to "Eat Well for Pennies: Zucchini Parmesan"