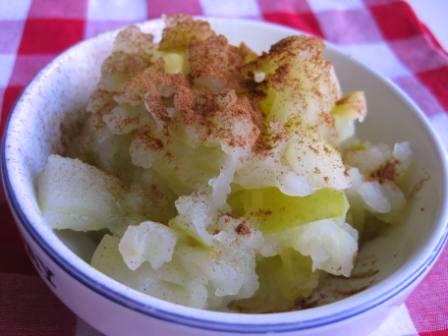 Homemade applesauce is one of my favorites for breakfast or a snack! And it's SO EASY TO MAKE! Organic applesauce from the store is pretty pricey (especially at the rate I go through it), and the taste and texture just don't compare with homemade.
We're lucky to have a local health food store that puts out their markdown organic produce in $1 grab-bags. So when they put out bags of organic apples, I snatch 'em up to make applesauce. That means I can make 3 or 4 lbs of organic applesauce for only a dollar!
Here's how I make my applesauce:
1. Dice the apples into small pieces. I leave the peel on for texture and nutritional value.
2. Place the pieces in a saucepan with a dash of salt (optional) and a small amount of water. For 2 or 3 chopped apples, I usually put in about 1/4 cup of water.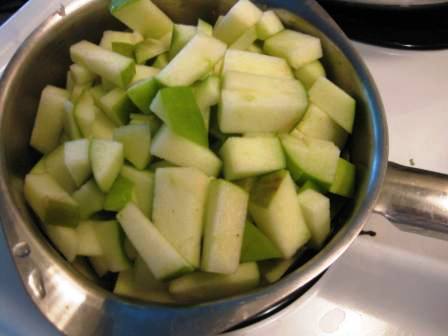 3. COVER the pan, bring to a boil, and turn the burner down to low. Cook the apples until they're very soft, stirring once or twice. This shouldn't take long…maybe 10 or 15 minutes.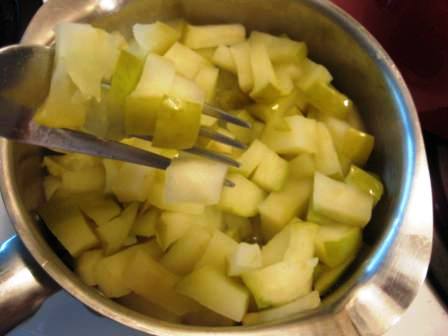 4. When they're very soft and can easily be mashed with a fork, dump them into a colander to drain off excess water.
5. Return the apples to the pan, and mash them against the side of the pan with a fork. You could also run them through a food processor, but I really like the chunky texture of hand-mashed applesauce.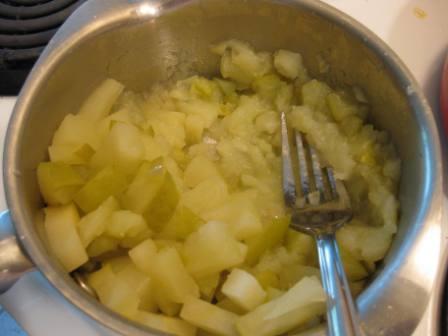 6. I enjoy my applesauce just plain, or sometimes with 1/2 & 1/2 (or cream) and a sprinkle of cinnamon. So delicious! Use your imagination…try toasted nuts on top for a more substantial meal. Or you could also make applesauce bread!
7. The applesauce doesn't last that long in the fridge — maybe 5 days, tops. However, this applesauce freezes quite well, and I've also canned it with pretty good results (I prefer the freezer, though).
This post is part of Pennywise Platter Thursday over at The Nourishing Gourmet.
3 Responses to "Nourishing + Frugal: Homemade Applesauce"