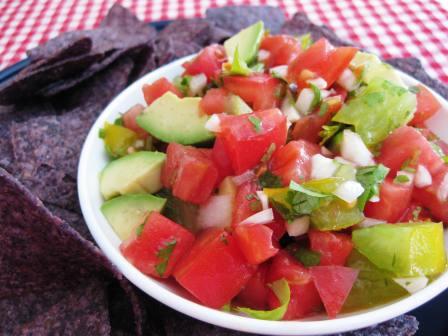 This recipe is one of our favorite summertime treats, and with all the tomatoes, onions, and jalapenos we harvested, we're still enjoying it into the fall. If the garden has been good to us, we don't have to buy anything except the avocados and chips!
Ingredient amounts are pretty flexible — and everyone likes their salsa different, so use this as a guide and let your own preferences take charge!
Salsa Fresca with Avocado
3-4 cups chopped fresh tomatoes
1/2 cup onion, finely diced
1-2 jalapenos, minced
2-3 cloves garlic, minced
1/4 cup chopped cilantro (measured after chopping)
2 Tbsp lime juice
Salt to taste – start with about 1 tsp and go from there
2 avocados, diced (1 avocado is fine, too – or none! Though 2 avocados lend a wonderful richness.)
Gently mix together all ingredients. Taste and adjust ingredient amounts. Ideally, the salsa should sit for at least 30 minutes to allow the flavors to blend, but ours is usually gone by then. 🙂 Serve with tortilla chips.
4 Responses to "Salsa Fresca: Fresh Salsa with Avocado"