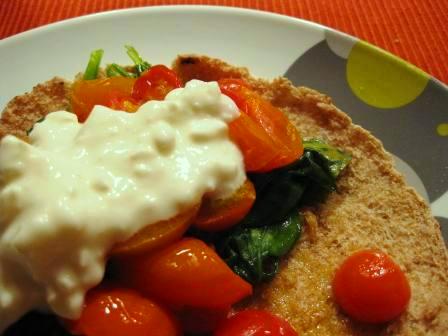 This dish has a special place in my heart; it was the "last supper" I ate with my very dear childhood friend, Sonja, before she was killed in a car accident the next day. We had the best time out in my garden that day, chattering away and harvesting New Zealand spinach and cherry tomatoes for these delicious Greek Melt Pita Sandwiches. And each time I've made them since, I've had loved ones around the table to enjoy this dish with me! Everyone loves it!
Since this is a frugal-yet-nourishing dish (not to mention delicious!), I'm linking it up with Pennywise Platter Thursday over at The Nourishing Gourmet.
Greek Melt Pita Sandwiches
Serves 2
1 pint cherry tomatoes, halved (or, chop up regular tomatoes until they measure about a pint)
2 Tbsp olive oil
1 tsp salt
4 oz crumbled feta cheese
2/3 cup plain yogurt
About 2 Tbsp lemon juice
1-2 garlic cloves, minced
1/4 tsp red pepper flakes
1 10-oz bag spinach, washed (or, use frozen spinach for a more frugal option)
2 whole wheat pitas (or, 1 pita split in half to share) (I've also used tortillas in a pinch!)
For the tomatoes: Heat oven to 400 degrees. Toss tomatoes with 1 Tbsp olive oil and 1/4 tsp of the salt. Arrange the tomatoes, cut side up, on a baking sheet. (If you don't want to turn on the oven, this can also be done in a skillet.) Bake till they are just softened, about 10 minutes.
For the sauce: Meanwhile, get a small bowl and whisk together the feta, yogurt, lemon juice, and 1/4 tsp salt; set aside.
For the spinach: Add 1/2 Tbsp of the olive oil to a skillet. Add garlic and red pepper flakes. Cook and stir until garlic is soft and just turning golden. Add the spinach and the remaining 1/2 tsp salt. Cook, stirring occasionally, until the spinach is just wilted, about 4 minutes.
For the pitas: Brush both sides of the pitas with the remaining 1/2 Tbsp of olive oil. Place in the oven (or into a toaster) and heat till lightly toasted.
To assemble: Place the pitas on plates. Top with the spinach and tomatoes. Drizzle the yogurt-feta sauce on top. Serve open-faced, or fold it in half like a sandwich.