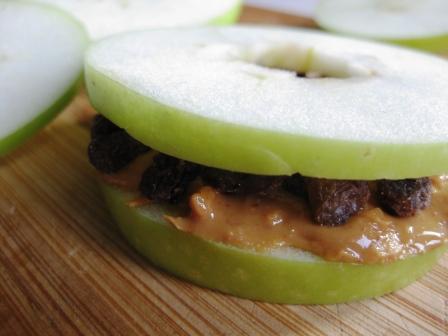 I really enjoyed my little "apple sandwich" I made for a snack today, and thought you might like it, too. Fun, yummy, and healthful for both kids and adults!
Apple Peanut Butter "Sandwiches"
Apples, one or more of your favorite variety
Peanut butter (or use almond butter, tahini, etc.)
Raisins
Cinnamon
Slice the apples thinly. I sliced through the apple horizontally (through the "equator") and then cut the core out of each slice, but you could also slice vertically. Spread some peanut butter on one slice, top with raisins, and sprinkle with cinnamon. Place another apple slice on top. Now you have an apple sandwich!
5 Responses to "Fun Snack: Apple Peanut Butter "Sandwiches""