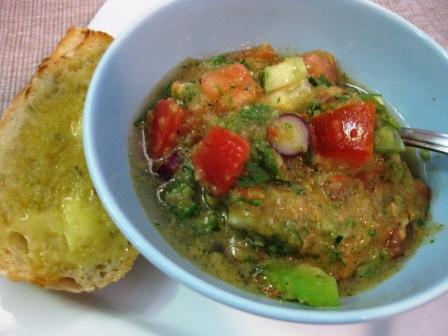 Today I'd like to share with you one of my favorite summer recipes — gazpacho! This chilled, raw-vegetable soup is so refreshing on a hot summer evening. Pair it with buttered, rustic bread and a cold beer, and you've got yourself a fabulous quick summer meal that's light and delicious.
I don't actually measure my gazpacho ingredients anymore, and it's a little different each time I make it. But this recipe is a favorite, and is a good place to start.
Summertime Gazpacho
2 lbs (approx.) ripe tomatoes, diced (3 – 4 large tomatoes)
2 scallions, chopped
1 red bell pepper, diced (optional – I usually leave it out if they're too expensive or I can't find organic)
2 celery stalks, chopped
1 – 2 garlic cloves, minced
2/3 cup lightly packed cilantro, chopped (or lots more if you like!)
1/2 – 1 jalapeno, diced with seeds removed (optional!)
Half a cucumber, diced
6 Tbsp olive oil
2 – 3 Tbsp red wine vinegar
3 – 4 Tbsp freshly squeezed lemon juice
Salt to taste (usually between 1/2 and 1 tsp)
1/2 to 1 tsp pepper
Couple dashes of Penzeys Smoked Paprika (optional, but adds incredible flavor…I am obsessed with this smoked paprika! It's one of those "secret weapon" ingredients.)
*****
Mix everything together in a bowl. If you'd like, transfer half to a blender and blend until somewhat pureed but still a little bit course. Transfer back into main bowl. OR, feel free to skip that step! It's up to you whether you like the texture smoother and soup-like, or chunkier and salsa-like.
Serve with homemade croutons, or toasted & buttered rustic bread.
Yum, I could eat this every day!
*****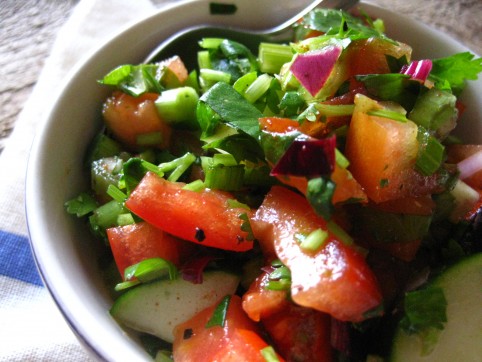 One Response to "Summertime Gazpacho"