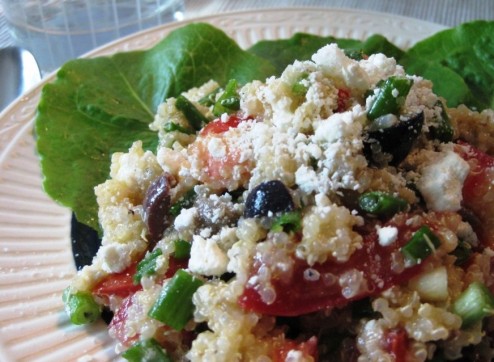 This is a recipe that my best friend Sonja gave me a long time ago; it was one of our very favorite things to eat. I love it! It's a light, refreshing dinner choice which is great for this time of the year because it doesn't require use of the oven. Heck, you could even cook the quinoa in your solar oven (you have built one, right? ;-)) and you wouldn't even need the stove, either! It would also be a great meal to take on a picnic.
Quinoa Salad, Greek Style
1 cup uncooked quinoa
2 tomatoes, chopped
1 cucumber, diced
3/4 cup chopped green onions
Scant 1/2 cup olive oil
6 Tbsp freshly-squeezed lemon juice
6 ounces feta cheese, crumbled
Black or Kalamata olives, chopped (as many as you like…I usually use between 1/2 and 1 cup)
Lettuce, torn into pieces (use as much as you like, though not too much — it's not meant to be the main ingredient)
Salt + Pepper to taste
Cook the quinoa* and cool it to room temperature. If I'm in a hurry, I'll put my hot quinoa into the freezer to cool it quickly.
Then, gently stir everything else — except the lettuce — into the quinoa. I leave the lettuce out until I'm ready to serve the salad, and then I stir it in. That way, I can store the leftovers for a day or two and not have to worry about wilted, soggy lettuce. You could also leave the lettuce out altogether, and just serve the salad on a bed of lettuce leaves, as in the picture above.
This salad is best served on the day you make it. Enjoy!
***
*Cooking quinoa:
Be sure to rinse the quinoa well to remove bitter saponin residue. The quick way to cook it is to boil your water (ratio of 1 cup grain to scant 2 cups water), add some salt, add quinoa and cover, simmering until the water is absorbed, about 20 minutes.
However, if you're able to plan ahead enough, it's much better, healthwise, to soak your quinoa for at least 12 hours to make it more digestible — the way traditional cultures do. Soaking grains neutralizes phytic acid (which binds to essential minerals like calcium, magnesium, iron, and zinc, and blocks their absorption) as well as enzyme inhibitors in the grain. Soaking also breaks down difficult-to-digest proteins and encourages the production of beneficial enzymes which in turn increases the vitamin (especially B vitamin) content of the grain.
So…
To soak quinoa: Thoroughly rinse 1 cup of dry quinoa to remove bitter saponin residue. Put 2 Tbsp of lemon juice or vinegar into a measuring cup and fill to the 1 cup mark with warm water, then mix with the quinoa in a bowl. Cover and let sit at room temperature for at least 12 hours, or up to 24. When you're ready to cook, rinse and drain the quinoa well. Place in a saucepan. Add a scant 1 cup of water, and a little salt. Bring to a boil and simmer, covered, until all the water is absorbed, about 20 minutes. Cool, and proceed with the recipe.
*****
3 Responses to "Quinoa Salad, Greek Style"