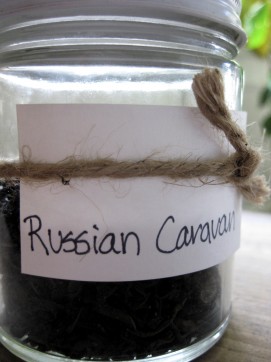 If you like smoky flavors in your food, I bet you like Russian Caravan tea! I absolutely love it! It's black tea with a smoky twist, thanks to the addition of Lapsang Souchong — black tea that's been smoked over smoldering pine or spruce wood. Legend has it that the tea absorbed the smoky aroma of nighttime campfires during its journey from China to the Russian Czar. Others say the tea was smoked as a way of preserving it for the 6,000-mile trip. Either way, the name is enchanting and the flavor is an unusual treat!
I used to buy Russian Caravan in teabags at our local health food store, but when they stopped selling it, I decided to blend my own using the ratios below. I like to measure the tea by weight rather than volume, because I happen to have a food scale and because equal weights don't always have equal volumes (oolong seems to have more volume), but either way it'll work.
Once blended, I use 1 tsp of tea per mug of hot water (about 12 oz) and I love to add milk or cream. If you prefer decaf tea like I do, take a look at my post on How to Decaffeinate Your Tea.
Russian Caravan Tea
1 part Lapsang Souchong
1 part black tea (English Breakfast, Assam, Ceylon are all good, but don't use anything flavored like Earl Grey)
2 parts Oolong tea
Where to source these ingredients? I like Mountain Rose Herbs. Although I think their shipping is a little pricey, I always get my stuff from them because it still comes out cheaper in the end, and I like the company and their products.
*****
3 Responses to "Blend Your Own Russian Caravan Tea"