So busy!! Since quitting my job, I am so busy!! Busy doing the life I had been putting off for all that time. My, how good that feels.
**********
Here are some random pictures from yesterday & today:
Inside the grain & legume cupboard in late afternoon. (I love the old fashioned jars — they've been in the family a long time, and they give me a homey feeling!)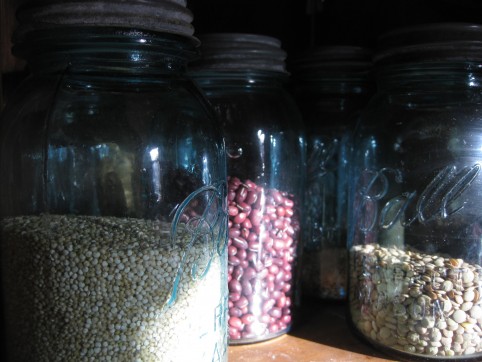 **********
I just finished reading this inspiring book about how "the rest of the world" deals with diapers (hint: they don't use 'em!) and how we westerners can have diaper-free babies, too. This is a must-read for new parents — or even better, before they become parents! Click here for a short synopsis of Natural Infant Hygiene (being diaper-free), written by the author of the book.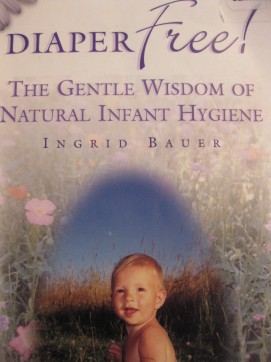 **********
The parsley in the kitchen window looks so pretty in the sun!
**********
Homemade organic applesauce ready for the freezer. I gobble this stuff up, especially when I warm it up on the stove and add cinnamon & cream!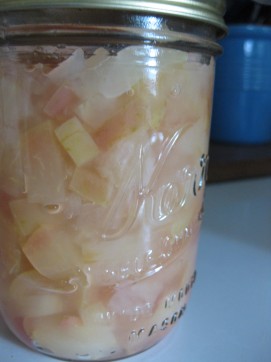 **********
2 jars of freshly made chicken bone broth, cooked way down and concentrated…now ready to pop into the freezer. Also, brown rice that's been soaked overnight and is ready to cook, and raw pumpkin seeds that were soaked overnight in salt water, and are drying. (I love to snack on them and add them to soaked oatmeal!)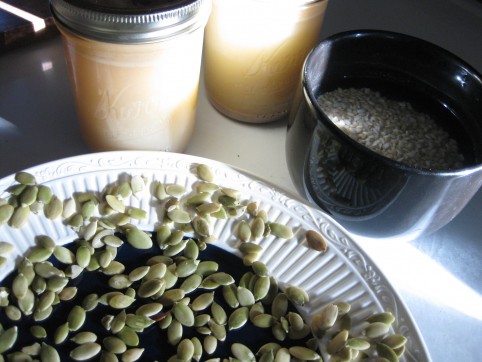 **********
Went to the health food store yesterday (our favorite — Natural Grocers, aka Vitamin Cottage) and got some good stuff at reasonable prices. Everything's organic except the chocolate and peanuts. Lettuce ($1.99), cilantro ($1.39), seedless tangerines ($1.79/lb on sale), Cara Cara oranges ($1.59/lb on sale), Food for Life sprouted grain tortillas ($2.65 for 6 large), raw cheddar ($3.49 on sale), peanuts ($2.33 for 1 lb), brown rice ($1.99 for 2 lbs, on sale), Kalona Supernatural whole milk ($3.69 for 1/2 gallon – to make kefir), Kalona Supernatural whipping cream ($5.79/quart), Chocolove 70% cocoa chocolate bar (the best-tasting brand and incidentally the cheapest…$1.49 on sale), and two "$1 grab-bags" — one with carrots and celery for juicing, and the other with 3 lbs of bananas at the perfect stage of ripeness to cut up and freeze for smoothies!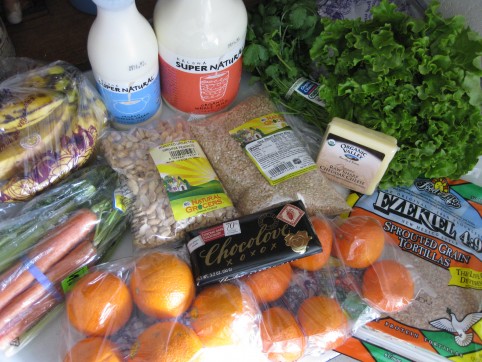 **********
Frozen banana slices for smoothies…ready to be transferred to a freezer bag:
**********
Then I made a delicious dessert of a sliced banana sauteed in coconut oil with a bit of maple syrup. A favorite!!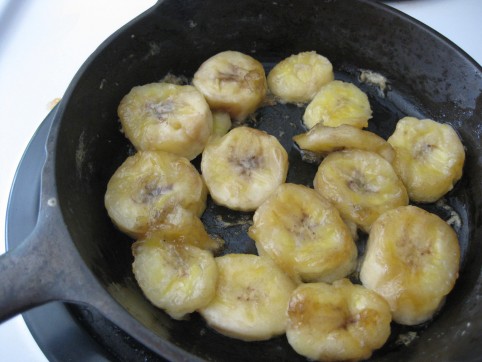 **********
Also made a yummy snack (called a "cheese circle" in my family when I was little!) of cheese melted over a sprouted grain tortilla, topped with Penzey's Zatar seasoning and Smoked Spanish Paprika. Dynamite! (I make these circles in a cast iron skillet, over medium-low heat, covering the skillet with a cookie sheet until the cheese is melted, then adding seasoning. And normally, I use only 1/4 or 1/2 of a big tortilla at a time!)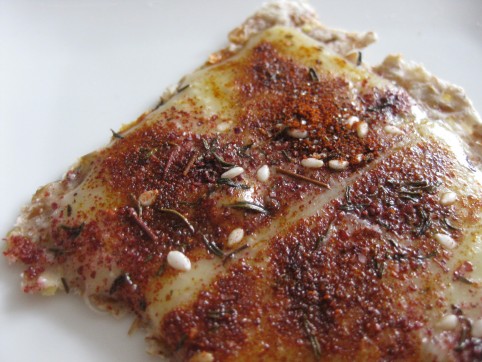 **********
What's been keeping you busy lately?
2 Responses to "It's Been Busy at the Homestead!"