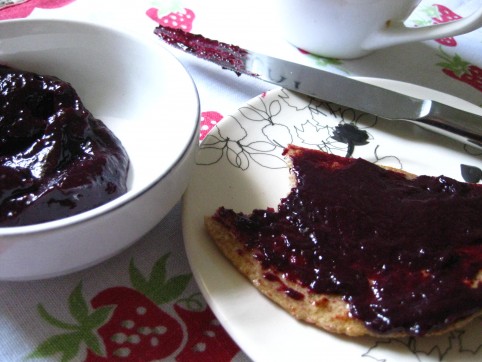 Finally, here's my recipe for the best wild (or "Concord") grape jam ever! The flavor really is incredible.
I'm not a big jam-maker normally. And maybe that's because nobody ever told me that jam doesn't have to be complicated, the way most publications make it seem. This is the easiest jam you'll probably ever make…because I discovered by accident that you don't need either sugar or pectin to make it!
And because it's "freezer jam" (meaning you store it in the freezer), you won't be sterilizing jars or canning anything. You'll just be cooking the grapes way down, allowing the natural sugar and pectin that's already in the fruit to do the job for you. (To give you an idea of how much jam you'll get, 9 lbs of grapes yields about 1 quart of jam.) Then, you eat it! And if you're going to keep it around for a while, just pop it into the freezer to extend its life.
This jam is also what I use to make my delicious Concord Grape Fruit Leather. Try it sometime!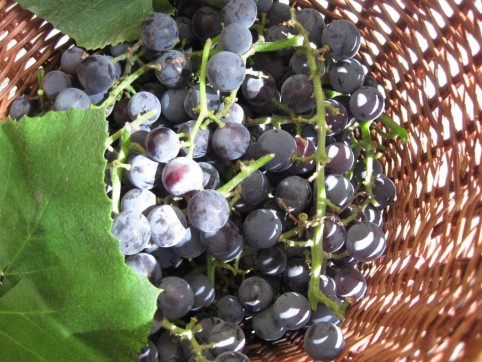 *****
Wild Grape Freezer Jam
Wild, or "Concord," grapes — nice and ripe. (That's the only ingredient!)
***
1. De-stem & wash your grapes.
2. Put them into a large pot, and turn to medium heat. No need to add any water to the pot — they'll provide plenty as they heat up and burst.
3. Cook, uncovered, stirring frequently, until most grapes have burst. The unripe ones won't burst.
4. Turn heat down to low, and simmer, uncovered, until the grapes have cooked down a bit. Turn off the heat and let the grape slurry cool off a bit until it's handle-able.
5. Strain your slurry through a mesh sieve with holes small enough to prevent the seeds from going through. (A food mill might be a better tool for this step — I don't have one, so I can't say for sure.) This is the most labor intensive part of the whole process because you'll really want to stir a lot and press the pulp against the sides of the sieve to separate all the liquid from the seeds and skins that will be left behind. Once this process is complete, you'll have plenty of liquid and the pile of seeds & skins will be surprisingly small.
6. Now that you've got just the liquid, you're ready to cook it down into jam. Pour it back into the pot and turn the burner back onto low heat. Simmer on low, uncovered, until it's thick like…jam! This may take a couple hours. Stir it fairly frequently, especially toward the end when it sticks to the bottom of the pot more readily. Keep it at very low heat so as not to burn it. You'll know it's done when you can drag your spoon through the middle of it and the track doesn't fill back in.
7. That's it! Cool & store in the fridge (it'll last a couple weeks before starting to go moldy), or in the freezer for long-term storage.
*****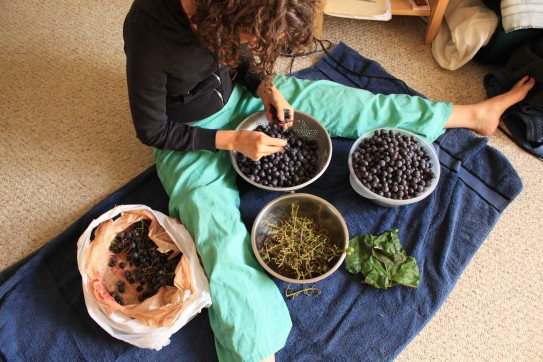 (Get your family to help you de-stem those grapes!)
 *****
68 Responses to "Incredible Homemade Wild Grape Freezer Jam — Sugar-free & Pectin-free!"