There are still watermelons at the farmer's market, and the weather is still hot enough to crave them!
My Hubby's sweet sister created this awesome recipe and sent it to me a couple weeks ago. We love it and have been making batch after batch of it! You don't even have to be a watermelon lover to enjoy this. I'm not; they're usually too sweet for my liking. But this…this is just right. It's so refreshing.
I should add, too, that this is a really good drink for someone who's sick; it's very light and hydrating, which is important when you don't feel well enough to drink or eat much of anything. It's like a popsicle only better for you! Right now, this slushie is sometimes the only thing that my incredibly delicate tummy will tolerate. I've been so grateful for it!
*****
Watermelon Slushie
3 cups of watermelon chunks, seeds removed
2 large (or 4 small) strawberries, fresh or frozen
7 raspberries, fresh or frozen
6 ice cubes
1 cup water (or less for a slushier consistency)

squeeze of fresh lime juice (optional)
***
Remove the seeds from your watermelon. (Don't worry, this is a quick task if you cut the melon into smaller chunks first. I like to save the seeds & dry them on a plate to snack on later). One time, I didn't remove the seeds before making the slushie. It makes for a richer, thicker (and even more nutritious) slushie, though the seeds definitely reduced the sweetness. I do like the slushie better without seeds. 🙂
Blend everything till smooth. If you'd like a slushier consistency, reduce the water, or add more ice. Also, it's easy for the strawberry flavor to overpower, so if that happens, just add more watermelon.
*****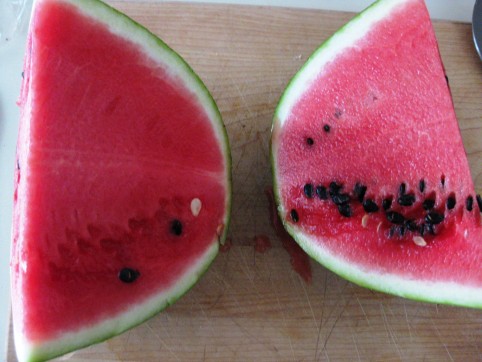 *****
*****
*****
2 Responses to "Indian Summer Watermelon Slushie"