On this, the longest night of the year…
I'm enjoying the darkness and quietude. This year, I notice how much I'm loving the early dusks and long nights. Not being stuck in a basement cubicle all day, I'm much more synched up with nature's rhythms. It feels right.
Right now, big snowflakes are falling fast outside. I stop what I'm doing and make frequent trips to the window, delighting each time in the sight of swirling snow under the street light.
Earlier, the good old 40's sound of Bing Crosby was playing in the background while I wrapped presents in front of the Christmas tree.
Now, the lights are off…the candles are flickering…the snow keeps falling…the tree is glowing…and piano music from The Snowman plays quietly.
If this moment wanted to last forever, that sure would be fine by me…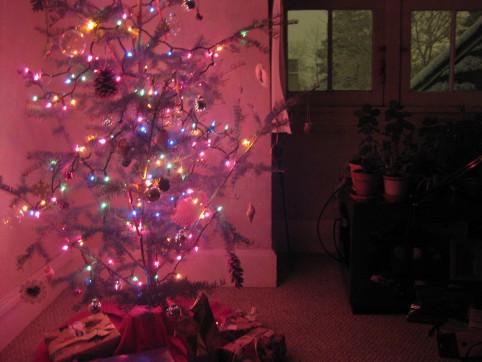 ***
♦♦ Happy Winter Solstice to you ♦♦
***
*****
2 Responses to "On the longest night of the year…"