Have you ever bought brown rice crackers? They're surprisingly expensive, and often have unnecessary ingredients and are wastefully packaged.
So I've devised a very easy way to make my own. We love them! They're nice and crunchy — great for dipping, or just eating plain.
1. Purchase a package of Food for Life Brown Rice Tortillas from your local health food store. (The above 12 oz. package of 6 large tortillas was $2 at my local store.)
2. Cut the tortillas into triangular wedges or rectangular strips.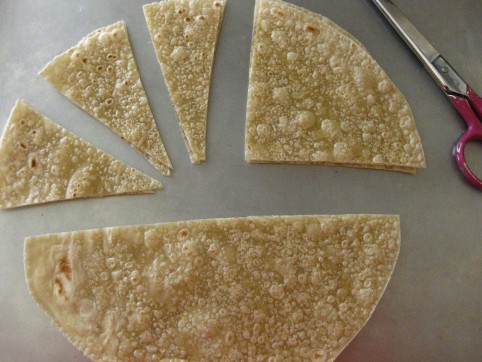 3. Arrange them on a cookie sheet.
4. They're yummy just plain like this, but if you'd like to add salt (or any type of fun seasoning blend — Penzeys Spices is my favorite place to go crazy with seasonings!), just brush the top of each strip lightly with water and sprinkle with salt. (The salt will adhere surprisingly well after baking.)
5. Bake at 275°F for 30-35 minutes until lightly golden and crispy-crunchy (and no longer leathery). You'll probably need to add another 5-10 minutes to that bake time if you brushed them with water first.
6. Let them cool, and then store in an air-tight container (at room temperature is fine). Done!
***
*****
3 Responses to ""Make" Your Own Brown Rice Chips or Crackers"