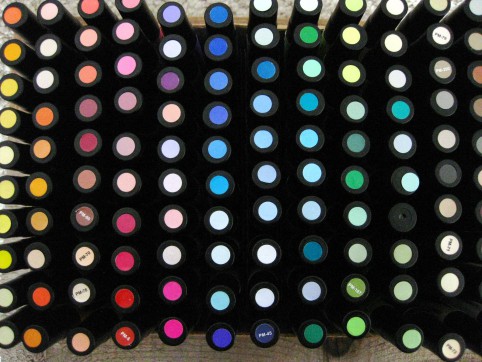 I recently expanded my art marker collection and needed something to keep them all organized within a compact space. So I made a holder using materials I had on hand, and I'm really happy with the way it turned out. It's not beautiful, but it does the job perfectly.
Here's how to make your own without spending a cent!
***
Materials:
A small cardboard box (my 10″ x 6.5″ cardboard box fits 140 Prismacolor art markers)
More cardboard, for the dividers
Duct tape or packing tape
Scissors
***
 1. Measure your outer box so that you know how big to make the dividers. Measure and cut out one divider and insert it into your box. Trim if necessary. When it's the right size, use it as a template to cut more dividers.
2. Put a row of markers in place at one end of the box. (Putting the markers in helps you know exactly how wide to make the rows.) It helps to prop up the opposite end of the box so the markers stay in place. Insert the divider up against your row of markers to see if it needs trimming. Then put a strip of duct tape on either side of the divider, as in the photo.
3. Tape the divider into place, flush against your markers.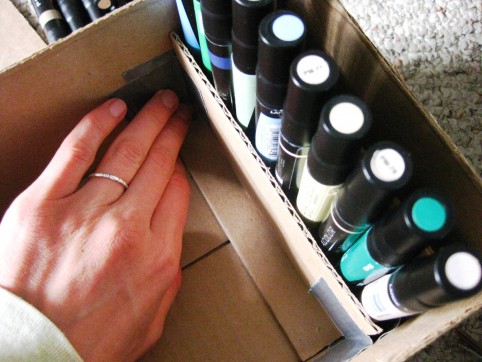 4. When the divider is taped into place, add another piece of tape to the bottom: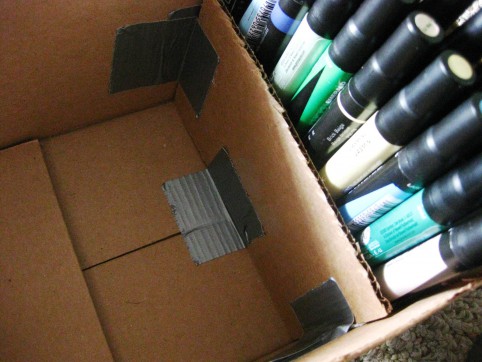 5. Keep adding rows of markers and dividers until you're finished.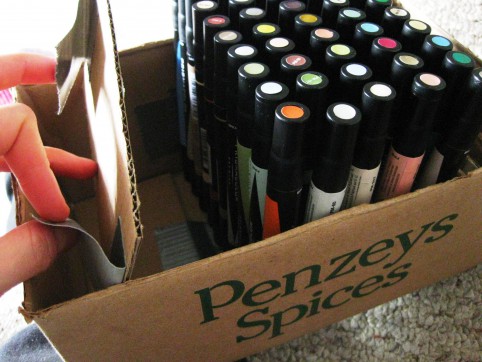 *****
4 Responses to "No-Cost DIY Art Marker Holder"