My plans for yesterday involved the doing of many things needing to be done, but the day unfolded on its own into something so much different — nicer and more appropriate for this moment in time. I woke up awfully tired, so instead of going back to bed, I transferred outside to the front porch with a blanket to rest in the cool morning air with some nettles tea. And as it ended up, nearly the whole day was spent lounging on the porch. What a shift from my usual! And how delicious to just let go and allow myself the time to rest.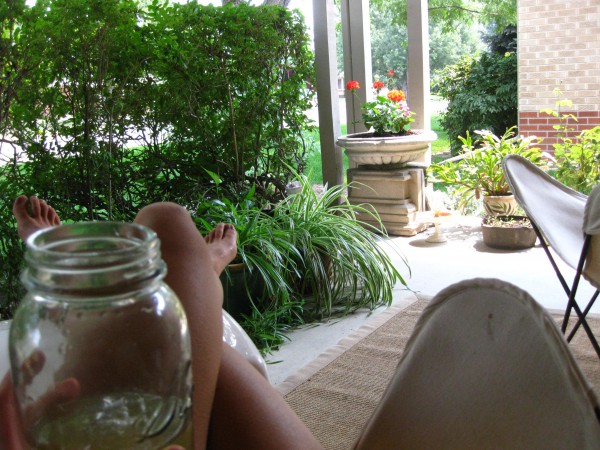 I'm feeling quite good but I still tire easily, and my antibiotics do contribute to that (they contribute nausea too). I'd overdone it the day before (and the day before that, and I'm sure the day before that, too), and my body was forcefully insisting on a rest. I'd been needing to get some moneymaking work done, but it just wasn't happening and I couldn't focus. So instead of struggling, I gave in and decided it would not be a work day, but an all-around rest day.
I savored being in the lounge chair, hearing the morning begin — finches singing, clinking dishes from a neighbor's open kitchen window, the whir of a lawnmower, blue jays calling in the distance, a dad jogging by with a stroller, a car passing now and then.
How peaceful.
And then later in the afternoon when I was feeling more alive, I packed up a picnic of nausea-friendly foods and met my parents at an outdoor venue for a little concert that was happening. After treating my body to a whole day of nurturance, I treated my spirit too.
What a gift to give oneself!
I did nothing that was on my list, but who cares anyway because it was a very-much-needed pause.
I hope you're able to do the same for yourself, to rest outside in the summer air, and to take a picnic to a local outdoor concert. Do! While it's still summer!
I hope you've been enjoying your week~
*****
One Response to "A Resting Day"