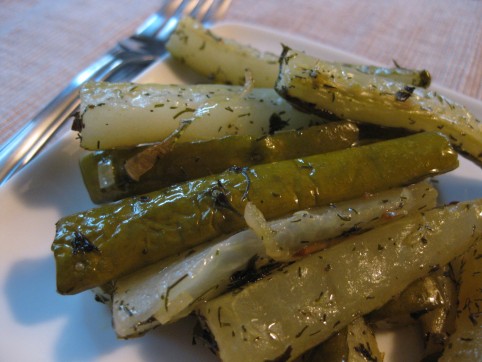 Ever wonder what to do with cucumbers that have begun to wilt and lose their crunch? Obviously the first thing you'd think of is to make a Loch Ness monster like the one below, right?
I thought so.
And although that's fun — yes — the thing that really uses up those cukes is to bake them. This was originally a Julia Child recipe from Mastering the Art of French Cooking, but I've tweaked it somewhat to be simpler, with bolder flavors. I never thought to bake a cucumber until my mom made them last year; delicious! And a real bonus is that they freeze pretty well after baking. Thawed, they're a little softer than the original out-of-the-oven ones, but that doesn't bother you, right?
Try them out…I think they're absolutely delicious! They have kind of a pickle-y flavor, yet gentle and buttery. This recipe makes a fair amount, but they do cook down to about half their original volume; and of course, feel free to cut the recipe in half.
Baked Cucumbers
3 lbs cucumbers
1/2 cup finely minced onion
1/4 – 1/3 cup wine vinegar (to your liking)
1/4 tsp sugar
1 1/4 tsp salt
1 Tbsp dry basil
1 Tbsp dry dill weed
4 Tbsp butter, melted
1/4 cup minced parsley (optional, for serving)
Preheat oven to 375*. Peel cucumbers if the skin is bitter. Cut them in half lengthwise and scoop out the seeds with a spoon. Cut into lengthwise strips 1/4″ to 1/2″ wide. Cut the strips into pieces that are 2″ long.
Mix all ingredients together, stirring well to evenly coat the cucumber pieces. Divide into two baking pans (I use two 9″x13″ glass pans) and bake, uncovered, for about an hour, tossing every 20-30 minutes. They should be tender, but still have a little crunch. Sprinkle with minced parsley (if desired), and serve. Mmmm!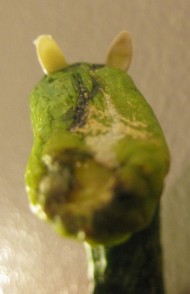 By