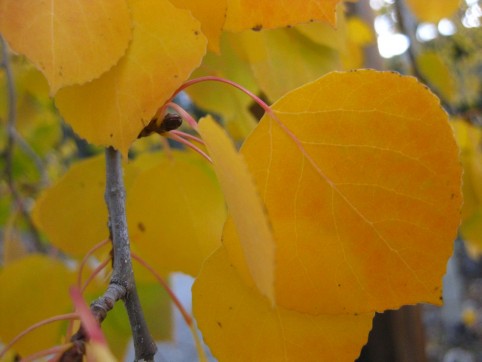 Last weekend (Oct 8-11) we went on the most wonderful little road trip through our beautiful state of Colorado! It was a spur-of-the-moment decision; we didn't have a plan, or even a map! We just got up and went.
Thursday night Hubby came home talking about a trip to the mountains to see the fall colors, and by Friday afternoon we had rented a car and were on the road. Although we had originally planned to camp, we decided not to when we got up to Breckenridge and there were snowflakes in the air! The aspen leaves are done, and winter has arrived up there; it was awfully cold! We needed to go south if we were going to see any fall colors. And so Saturday was a beautiful drive down through the Arkansas river valley past Buena Vista and onto Gunnison where we stayed the night. We were up early Sunday morning and on the road by 8am, stopping for breakfast and tea at a little coffee shop in town, which is something we never do normally, so it really felt like vacation. And being on vacation always makes me re-appreciate hot tea! I normally drink multiple cups of tea throughout the day whenever I want — but on vacation, hot tea becomes a commodity because it's not readily available. It's nice when you gain a whole new appreciation for something in your everyday life, isn't it!
Anyway, Sunday we drove to Ouray in the southwestern area of the state – stopping many times along the way to take pictures and absorb the beauty and the fall colors. There's such a variety of landforms in that area; I had no idea! The huge and jagged San Juan mountains were an incredible sight. And Ouray! What a place! It's a sweet little historic town from the late 1800s, dwarfed by steep canyon walls all around. It's aptly called the Switzerland of America, and even has a Matterhorn look-alike peak. If you find yourself in Colorado sometime, go to Ouray! Even if you live in Colorado, it's a great destination. I had no idea how beautiful that part of our state is!
While looking for a place to stay the night in Ouray, we stumbled upon the Wiesbaden Hot Springs Spa and asked to see a few of their rooms. They were a little out of the price range we wanted to spend, but upon seeing the little cabin on the hill with screen door and wood burning stove, we had to have it. At $200 a night, it was somewhat overpriced we thought — a definite splurge — but the experience was great. I dream of one day living in a place like that, and it was so fun to "play house" in it, even for just one night. Staying in that little cabin in nature, my heart got a taste of what it loves…and it was very hard to leave and drive back home. Very hard; tears were shed!
One's heart does not lie; when you're doing something against your heart's will, it hurts. F. and I long to quit our rat-race jobs, buy property, and live closer to the earth. It's been getting pretty difficult lately to get up and go to work each morning since it's really not what my heart loves (he's in the same situation with his job too)…but earning and saving money for a homestead is our priority right now. We yearn for a piece of land where we can have chickens, goats, gardens, fruit trees, and a creek for fishing; a slower pace, closer to nature. The desire is screaming louder and louder. It's hard when you know you're moving toward something you want, but you're not close enough yet to see how it's all going to work out.
Anyway, that's a topic for another day. Here are some pictures from our much-needed getaway!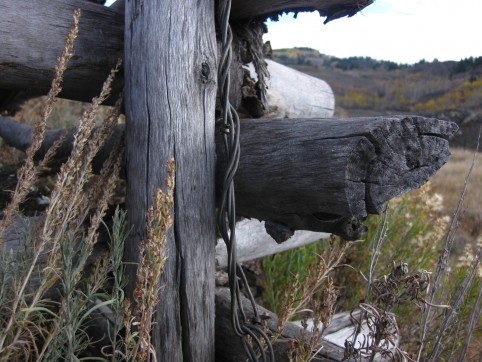 By