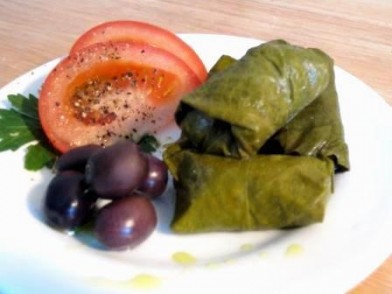 A few days ago, I wrote about how to make your own pickled grape leaves. It's the easiest thing ever! I love how I didn't have to make a special trip to the store to spend $4 on a jar of grape leaves (which usually contains preservatives 🙁 ). Also, the homemade ones are lacto-fermented, meaning your body gets a nice little health boost.
As promised, here's my recipe for Zucchini Dolmas. I love these things! I served them this past weekend, and they got rave reviews! They make for a light and refreshing summertime dish, and they help to use up that overabundance of zucchini!
Lindsey's Zucchini Dolmas
(Makes about 24 dolmas, & can easily be made a day ahead – but not more than a day! 🙂 )
Approx. 24 pickled grape leaves (1 jar, or make your own)
2 cups grated zucchini (skin and all)
1/2 cup finely chopped parsley (measured after you chop it up)
1/4 cup green onions, chopped
2/3 cup crumbled feta cheese
1/4 cup olive oil
1 heaping Tablespoon dried, crushed mint leaves
Salt to taste (I usually start with 1/4 tsp and add more)
Pepper to taste
Mix everything together in a bowl.
Lay out a grape leaf, underside up. Put a small spoonful of filling at the base of the leaf (you'll get a feel for the amount). Fold up the bottom edges of the leaf, then fold in each side. Roll it up, tucking the edge of the leaf underneath. There you go! Isn't it cute?
2 Responses to "Recipe: Lindsey's Zucchini Dolmas"