Sorry I don't have a better picture of my very favorite Cranberry Relish! I make this all autumn long, while fresh cranberries are easily obtainable. For the Thanksgiving table, it's a great thing to make a day (two days is even better!) ahead of time since the relish seems to mellow out as it sits for a while.
It's a bright, zingy surprise on the palate, which is a nice contrast to the creamier, cooked tastes of most other traditional dishes on the table. I love it!
Update: Okay, here's a better picture of it! 🙂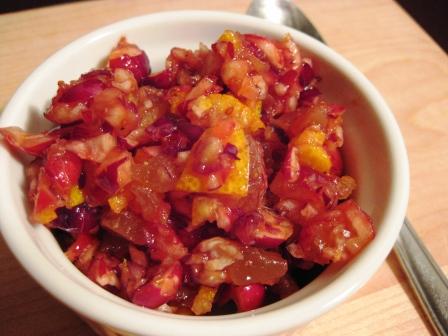 Cranberry Mandarin Ginger Relish
1 12-oz bag fresh, raw cranberries, washed and picked through
1 good-sized mandarin orange or tangerine, well-washed, seeded and cut into 1″ dice (rind and all)
1/4 cup sugar (I like rapadura or sucanat)
1/2 cup coarsely chopped crystallized ginger
1/4 cup orange marmalade
In a food processor, pulse the cranberries until they're chopped (but not too fine!). Empty them into a bowl.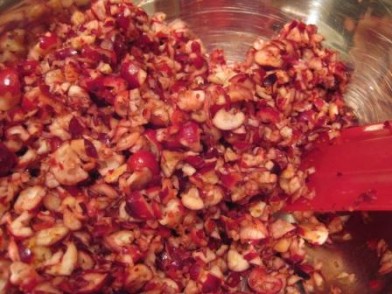 Next, put the mandarin chunks into the processor and pulse until the pieces of rind are about the same size as the cranberries. You don't want a cranberry-orange paste…you want to be able to differentiate the ingredients with both your eyes and your palate.
Mix the mandarin with the cranberries, and then mix in the rest of the ingredients. This can be eaten right away, but I find that letting it sit a little while (a couple days in the fridge) allows the flavors to blend and mellow. I sometimes like to add toasted pecans to garnish the top right before serving.
Happy Thanksgiving!
Do you have any nice plans? The Hubby and I are going over to my parents' house; we're bringing a nice salad, the pumpkin pie, and the eggnog. I'm looking forward to a nice, low-key afternoon of good food and good company. A day off from work is okay too! 😉
One Response to "My Favorite Cranberry Relish for Thanksgiving"