Today we're making Latkes with a twist, just in time for Hanukkah (which begins this Friday night). I used my garden-grown Jerusalem Artichokes in place of the potatoes that would traditionally be used for latkes. I'm not Jewish, by the way, but I do like Jewish food, and I think it's fun to get into the spirit of the holiday. 😉
Jerusalem Artichokes (a.k.a. Sunchokes) are actually the edible tubers of a sunflower that's native to North America. They're kind of a lost vegetable, having been more popular in days gone by. Sunchokes are usually used in place of potatoes, but have a more pronounced, earthy flavor…and although they can be eaten raw, I prefer them cooked.
This year, I grew them in a small pot in the garden (though they do grow wild in fields). I've heard that once you plant them, it's hard to get rid of them…so I just bought a small tuber from the Whole Foods produce section, broke it into pieces, and planted it. The sunflower grew very tall, and a few weeks after the first frost I dumped out the pot and harvested quite a few jerusalem artichokes. So easy! Anyway, that's a post for another day. Onward with the recipe: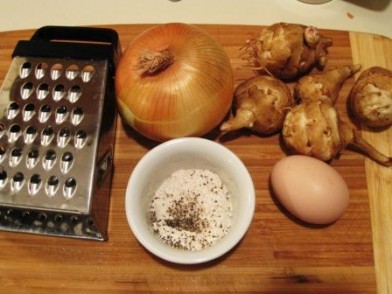 Jerusalem Artichoke (Sunchoke) Latkes
(Makes about 6 latkes / Ingredient measurements don't have to be exact)
1/4 cup finely diced or grated onion
1 cup grated or shredded Jerusalem Artichoke, raw
1 large egg (or two small ones)
4 Tbsp flour (possibly more), divided — I used whole wheat
1/2 to 1 tsp salt, to your liking
1/4 to 1/2 tsp pepper, to your liking
Oil, to fry in
If you remember, go ahead and squeeze any extra liquid out of your shredded Jerusalem Artichokes. I forgot to do this and my latkes turned out fine, but I'll try to remember to do it next time because extra liquid does make the oil splatter when the latke is placed in the pan.
Beat the egg(s) in a bowl, and mix in the Jerusalem Artichokes, onions, salt, and pepper. Mix in about 2 Tbsp of flour. You want to have enough flour in there so that the batter holds together after you form it into a little patty.
Pour enough oil (olive oil is traditional) into a frying pan so that it covers the bottom of the pan. Set the burner to medium, or a bit higher. To test the oil, drop a bit of batter in and if it sizzles, the oil is hot enough.
Form some of the batter into a little patty, and flatten slightly, like this:
If the patty just falls apart in your hand, put it back in the bowl and add more flour to the mixture.You'll notice that as the batter sits around, it will get more watery, so you will likely have to mix in another couple tablespoons of flour.
Slide the patty into the hot oil in the pan. Cook about 4-6 minutes, or until the bottom is golden. When you see the edges begin to brown, it's time to check if the bottom is golden.
If the latke isn't browning, turn the heat up a little. If it's browning too quickly, turn the heat down a little.
When the latke is done, place it on a plate lined with paper towels. Serve right away, or make the latkes earlier in the day and then warm them in the oven before serving.
Serve plain, or with sour cream, applesauce, or any other favorite condiment.
Happy Hanukkah!
This post is part of today's Pennywise Platter Carnival over at The Nourishing Gourmet.
2 Responses to "Jerusalem Artichoke Latkes for Hanukkah"