First of all, I have to say that since I made these chocolate-dipped candied orange peels over the weekend, I have NOT been able to stop eating them — they're just the perfect combination of chocolate and orange, a flavor combination which I love. They are just SO GOOD!
And I can't get over that they're made with the orange peels that you'd normally toss into the trash or compost heap! Besides that, the fact that they're dipped in chocolate means that you stretch your chocolate further, while still getting your chocolate fix! All in all, a delightful & unusual treat that can be made for not much money at all.
Start by saving your orange/mandarin orange/tangelo/clementine peels. I store mine in a sealed container in the fridge for a few days while collecting enough to use. You can store them in the freezer, but if they're in there too long the texture suffers and the peels become mealy; I like to stick with the fridge.
Also, I use peels from organic mandarin oranges. I feel it's important that the peels be organic, since the highest concentration of pesticides is present in the peels of conventionally grown fruit.
First you'll cook your orange peel in boiling water for about 15 minutes. This seems to mellow out the bitterness. Then you'll candy it with a honey-water solution (takes about an hour), let the orange peels cool (10 minutes), and then dip them into melted chocolate and refrigerate for about 10 minutes until set. Easy!
Here's the recipe:
Chocolate-Dipped Candied Orange Peel
2 -3 cups of orange peels, cut into pieces (I used mandarin orange)
1/4 cup water
1/3 cup honey (or 1/2 cup regular sugar or rapadura)
About 2/3 to 3/4 cup chocolate chips (I used basic semisweet chocolate chips, but another idea is to chop up a special bar of chocolate)
First, put the orange peel into a pan and cover with cold water (you'll use the 1/4 cup of water & honey a little later). Bring to a boil and boil gently until the peel is soft, about 15 minutes. Drain.
Now, bring the 1/4 cup of water and honey to a boil. Add the peel. Boil gently on low heat, uncovered, stirring occasionally. This takes about an hour. When the peel is sodden and the syrup is almost gone from the bottom of the pan, take the peels out and put them onto a cookie sheet to cool.
While the peels are cooling, put your chocolate into a double boiler to melt over hot water. (Don't melt chocolate over direct heat because it tends to burn. I don't have a double boiler, so instead I just use a metal bowl set over a small pan of simmering water.)
When the chocolate has melted, dip the lower half of each orange peel into the chocolate and set on a cookie sheet. (You can line the cookie sheet with wax paper, but I didn't.)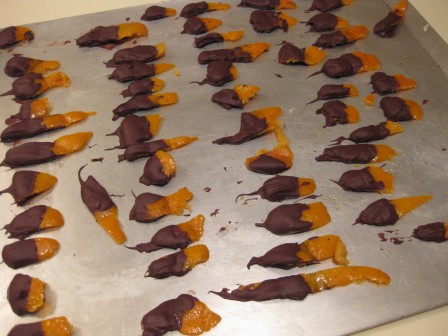 Put the cookie sheet into the fridge for 10-15 minutes to allow the chocolate to set. After cooling in the fridge, the peels will come off just fine with a flexible metal spatula. Though, if you don't have a flexible metal spatula, you may want to use the wax paper so that you can just peel them off. If they don't come off very easily, allow the cookie sheet to sit at room temperature for several minutes; they should peel right off then.
I found that storing them at room temperature was just fine, as long as you don't put a lid on the container; I noticed that they got a little soggy if I kept the lid on. But if having an open container of chocolate orange peels on your counter is just too tempting (uhh, yeah!), you can put them in a sealed container in the fridge — they don't seem to get soggy then. You can also just as easily store them in the freezer (I have some in the freezer right now), and snack on them directly from there.
Since this recipe produces a large tray full of decadent treats made with what would otherwise be trash…I feel that it deserves a place in this week's Pennywise Platter Carnival over at The Nourishing Gourmet.