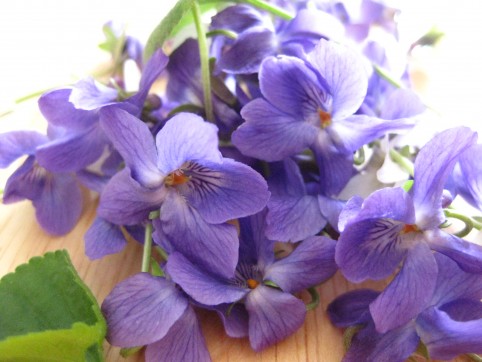 Here's an old fashioned spring project to do! Preserve those ephemeral little violet flowers for use as a garnish (on a coconut cake for Easter would be nice…) or for a lovely treat at any time of year — violets have a wonderful taste and will keep for months once they've been candied!
The process is simple, and not too time consuming. You can make this a more delicate project by painting eggwhite onto each flower with a paintbrush, and then dusting with fine sugar, but I think I'd only want to dedicate that kind of time if I were making these for a really special occasion!
Here's what you'll need:
Freshly picked violet flowers & leaves (having them very fresh will make the project go faster and prevent frustration!*)
Egg white (not beaten or frothed) (use eggs you trust since it's raw)
Ordinary white granulated sugar (not powdered sugar)
Here's what you do:
The flowers should be dry. No need to wash/dry them first — just pick them on a dry day and go for it. Dip each flower into the eggwhite. Give the flower a firm shake to get rid of any excess eggwhite. Hold it over a dish filled with sugar, and spoon the sugar over the flower until all surfaces are coated. Let the flowers dry on wax paper, parchment paper, or on a bed of sugar. (A plain baking sheet works too, but the eggwhite sticks, so you'll have to carefully loosen the flowers with a metal spatula after they're mostly dry.)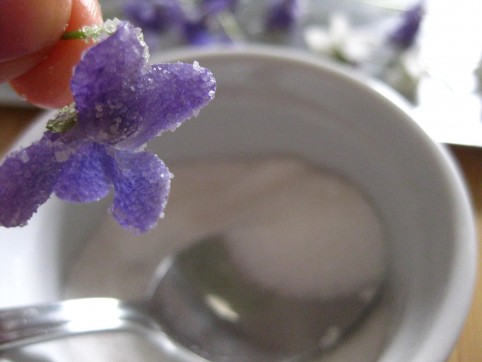 *The most important thing is to have fresh flowers (and leaves if you're using them). Don't pick the flowers, put them in a zip-top bag in the fridge for a few days, and then do the project; the flowers will have lost too much moisture and when you dip them in eggwhite, they'll collapse. See photo below! Very fresh flowers will hold their shape even after being dipped in eggwhite.
That's it! When they're thoroughly dry (give them about 24 hours), store them in an airtight container. Room temperature is OK.
3 Responses to "How To Make Candied Violets"