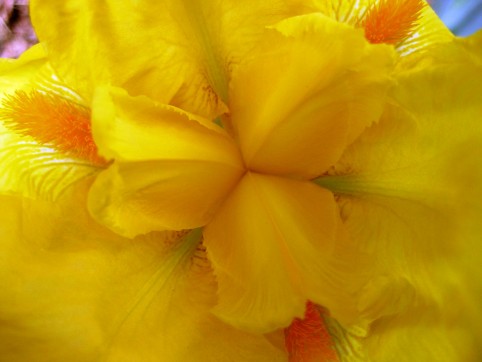 Sunday's a good day to remember what we've been grateful for over the past week, don't you think? I'm joining Taryn over at Wooly Moss Roots in her Gratitude Sunday tradition, and here's my list:
– That we live close to everything we need, don't need to own a car, and can transport ourselves by bike, foot, and occasionally bus.
– The library!!
– The good, nourishing food in our fridge.
– The sun flooding into our apartment in the evening…and our apartment in general; it's the top floor of a 100-year-old house and has charming vaulted ceilings and stained glass windows. It's a neat space.
– Grateful to be in my garden — instead of a cubicle — on a Friday afternoon.
– Incredible garden produce we've been harvesting! It makes my soul sing to be able to eat straight out of the garden.
– Wasps — they're irritating and aggressive, but they sure do take care of the aphids!
– Lushness and greenery everywhere thanks to all the rain.
– My wonderful Hubby stopping at the store on his way home this week to bring me groceries that I didn't feel well enough to get myself.
– Not having to report to a supervisor at work…and not feeling like someone's slave anymore.
– Quiet, still moments.
– Sitting by candlelight, not caring how late it is, Federico Aubele in my headphones, writing in my journal, rain falling outside.
– Watching my cat have a party with the catnip I picked for her!
– This time of the year.
– Bit the bullet and got a dreaded, long-overdue doctor appointment over-with. I don't see eye-to-eye with so much of western medicine, but I feel grateful for the doctor I have. I've never really needed to go see him before, but he's good. And instead of leaving the appointment feeling scrambled, drained, and off-balance as I usually do after a doctor visit, I left there feeling calm and centered…and feeling like I'm in good hands. And I appreciated that he listened intently and took all the time that was needed for me to lay everything out.
– Testing out my new ultralight solar cooker "design" (reflective windshield sunshade & a binder clip!) by cooking black beans, brown rice, and a rhubarb crisp; a total success!
What about you? What have you been grateful for this week? Leave a comment!
*****