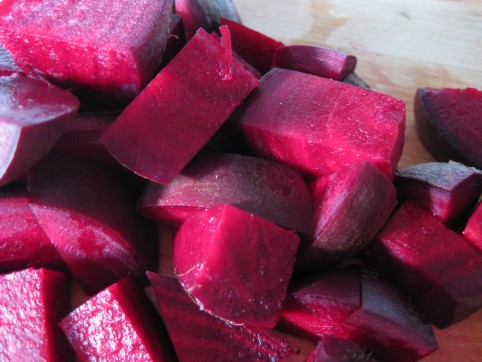 Beet kvass is a favorite at our house! It's so easy to make and so good for your body, and we love the taste — salty, sour, very refreshing.
Beets are extremely nutrient rich and have long been valued as a blood tonic (and their doctrine of signatures would suggest this — they make everything look bloody after you've cut into them!). They are rich in iron, calcium, magnesium, phosphorus, carotene, B complex, copper, and vitamin C. Beets and their greens contain special substances that protect the liver and stimulate the flow of bile (Nourishing Traditions, p. 373). And drinking beet kvass is especially beneficial to digestion because it's lacto-fermented and therefore contains beneficial enzymes and bacteria for your digestive tract. It's an all-around health tonic, and according to p. 610 of Nourishing Traditions, beet kvass promotes regular elimination, aids digestion, alkalinizes the blood, cleanses the liver, and is a good treatment for kidney stones and other ailments.
Well, all I know is that it tastes good!
The recipe in Nourishing Traditions describes letting your beet kvass ferment for 2 days on the counter and then refrigerating it. However, I find it usually needs to ferment a lot longer than that. I let mine go a week or two on the counter, until the kvass is completely opaque — a deep, thick red that you can't see through. I give it a taste, and if it's sour with no hint of sweetness left, I know it's done (though some may like to have that hint of sweetness). As with all fermentations, let it go until it tastes good to you, regardless of what the directions say.
Here's my recipe:
Beet Kvass
8 – 10 ounces organic beets, scrubbed & coarsely chopped (I don't bother to peel them)
1/4 cup whey* (optional)
1 Tbsp sea salt (I like unrefined sea salt because the minerals haven't been taken out)
water
Place the salt into a 2-quart glass jar. Pour in a little warm water to dissolve the salt, and then add the beets and whey (if using). Fill the jar to the top with water. Stir and cover. Let sit at room temperature until the kvass tastes good to you — several days to a couple weeks, depending on your kitchen temperature and your tastes. Transfer to the fridge. If the kvass isn't delicious, it may need a few weeks to "do its thing" in the fridge. I always find that my ferments taste even better when they've been shoved to the back of the fridge for a few weeks (or…er…months!).
And I have found that the whey is an optional ingredient, even though it isn't listed as such in Nourishing Traditions. Feel free to leave it out; your kvass will take a little longer to ferment, but will be just as delicious!
When the liquid is nearly gone from your jar, you can fill it halfway again with water (no extra salt) and let it re-ferment if you want. Or you can save some kvass to add to your new batch as an innoculant, or you can juice your spent beet chunks! Or all of the above.
*****
*Whey: a clear yellowish liquid that can be drained off a fermented milk product like yogurt, buttermilk, or kefir. Whey will actually last for a couple months in your fridge. There are several ways to collect it:
– Easiest way: make kefir and let it over-ferment until curds and whey have separated. Spoon off the curds, and strain the whey through a fine mesh seive.
– Another way: Place a colander or seive over a bowl. Line the colander with a clean, damp tea towel, and pour yogurt into that. Leave for a day or two in your fridge to drain. You'll then be left with whey in the bowl and "Greek yogurt" (or "yogurt cheese" if it's really thick) in the colander. Both are great for making dips.
*****
Troubleshooting:
My ferments, including my kvass, sometimes get a white film (kahm yeast) on top during fermentation. It looks like this: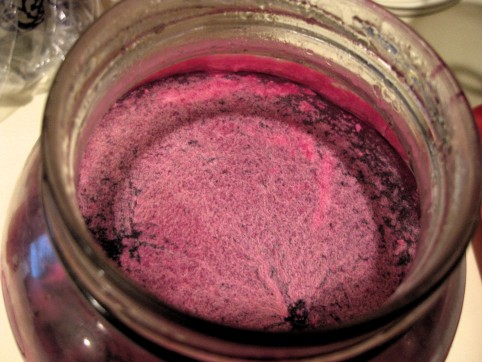 Kahm yeast is harmless, but you'll want to try to keep it scraped off so it doesn't affect the flavor of the kvass too much. I do find that my kvass gains a depth of flavor when it's had this film on it, but if you let it go uncontrolled, it can make your kvass taste weird. Try to scrape as much of it off each day as you can.
*****
62 Responses to "How to Make Beet Kvass"