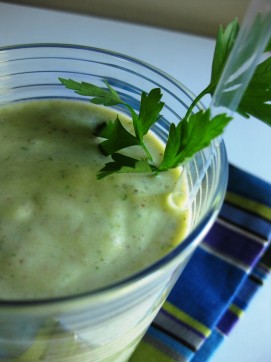 Mmmmm, these green smoothies are a lush-tasting way to sneak more veggies into your diet — and the time is now, since it's spring and salad greens are in season!
There are so many variations to this concept — please be creative and dream up your own! — but here's how I make mine:
Green Smoothie
kefir (or yogurt thinned with water)
banana pieces (pretty much essential for adding some sweetness)
apple pieces, or any other fruit
spinach leaves and/or lettuce leaves and/or cucumber slices (or two green smoothie frozen concentrate cubes!)
several fresh mint leaves or parsley sprigs
vanilla extract
ground flax seed
First, add kefir and your greens and mint leaves to the blender and blend thoroughly. Add everything else, blend thoroughly, and enjoy!
*****
3 Responses to "Give Your Health a Boost with Refreshing Green Smoothies!"