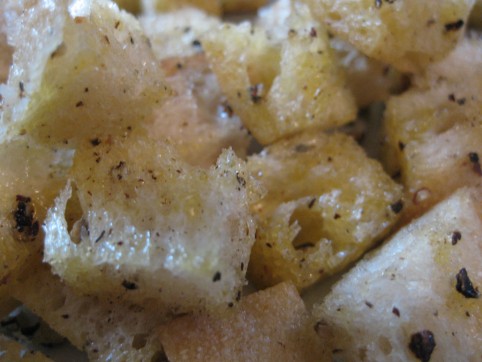 Up here in our little 3rd floor attic Homestead In The Sky, the summers are sweltering. We forgo almost all oven use during these months, relying instead on the solar oven or the stovetop (see my Baking Cookies on the Stove post). Or, sometimes, the car. Actually we don't have a car anymore — the old '71 Jeepster finally reached a point where putting more money into it wouldn't make sense. (Don't worry, we gave it to someone who could completely appreciate it and at least part it out.) The last year we had it, it wasn't running — but it served as a really handy oven during the summer months.
I made croutons that turned out great. They made the car smell really good too.
To cook things in your car, just park it in a sunny place where the interior will get nice n' hot. Slide your cookie sheet of croutons (or whatever else) onto your dashboard or back seat, and check on it every now and then. This is a very fun way to cook!
Need to dehydrate some food? Use the car! Cook something at low heat? Use the car!
Making fruit leather? The car! Roasting pumpkin seeds? Car!
Bet those kale chips would even work in the car, too.
If you go to work and park in a hot parking lot, put your lunch container on the dashboard in the morning, and it'll be warm for you at lunchtime.
Another thing I like to do is make crackers out of sprouted grain tortillas, like these: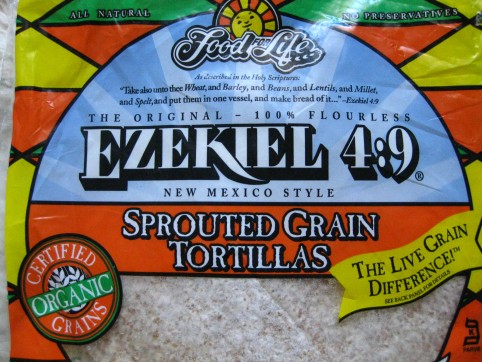 Cut them up and spread on a cookie sheet. Bake in your car till very lightly browned and crunchy (or in an oven or solar oven at about 250°). Be careful that they don't get too brown or else they won't taste as good.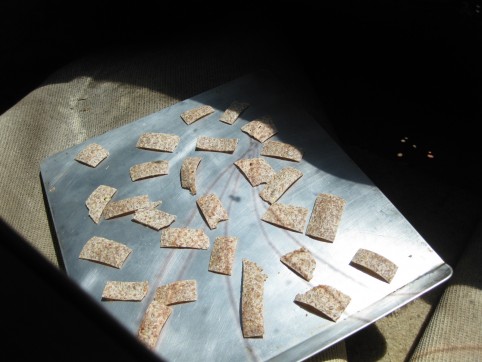 *****
I bet there are so many other fun car-cooking ideas out there too — do you have any to share??
*****
11 Responses to "Dashboard Croutons & Other Car Cookery Ideas"