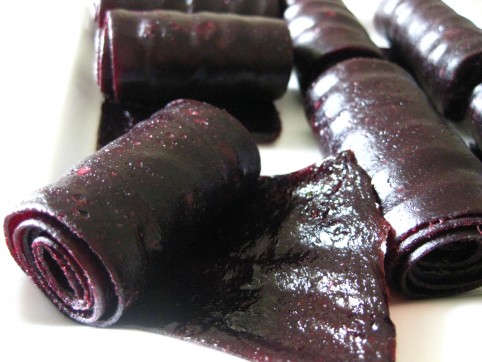 I wish I could give you all a piece of this fruit leather to eat right this minute! It has the best, truest grape flavor I think I've ever tasted. This leather is sugar free and made with nothing but ripe concord (or "wild") grapes. And although the process is really easy — and you need nothing except the grapes themselves — it takes time. This is special stuff; the taste is so worth it, and when you take a bite and think about the process from start to finish, you'll appreciate this fruit leather even more.
I find that it feels really good to deeply savor each morsel of food like this; so different from mindlessly feeding our faces, isn't it. I bet if we were the ones responsible for the extensive work required to prepare everything we ate, we'd slow right down and savor every single bite!
*****
Concord Grape Fruit Leather
Concord grapes (that's the only ingredient!)
***
1. Begin by making my Grape Freezer Jam with your concord grapes. But go ahead and leave it unfrozen…or, thaw it out if it's already frozen.
2. Preheat oven to 200°F. (You could also use a dehydrator.)
3. Tear off a piece of parchment paper the size of your cookie sheet. You could also generously oil your cookie sheet, but parchment is a lot easier to peel the leather off of.
4. Using a spatula, spread your Freezer Jam onto the cookie sheet, taking the extra time to spread as thinly and evenly as possible; it takes a few minutes to get it just right. Spreading it as evenly as possible is important because otherwise some parts will be overdone and other parts will be underdone.
5. Put into the oven and let it dehydrate until the fruit leather is pliable…not wet, but not hard & brittle either. Mine usually takes about 2 1/2 hours.
6. Remove from the oven, cool for a while, peel your fruit leather off the parchment, roll it up, and cut into strips! Store either at room temperature or in the fridge. I like to keep mine in a mason jar in the pantry.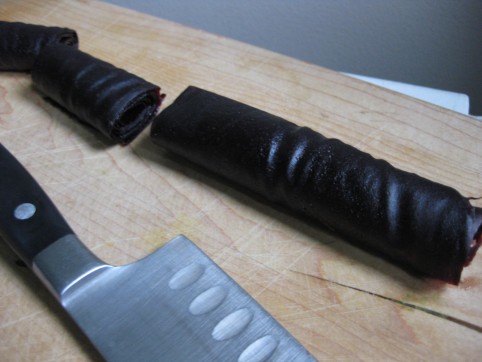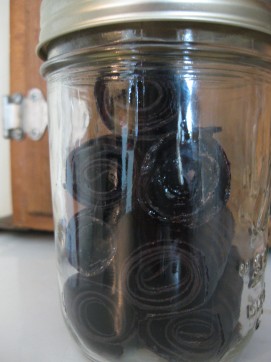 *****
When I'm on the go and need a good snack, I'll often pack a roll or two of this fruit leather, along with a bag of homemade kale chips. It's perfect!
*****
36 Responses to "Homemade Concord Grape Fruit Leather"