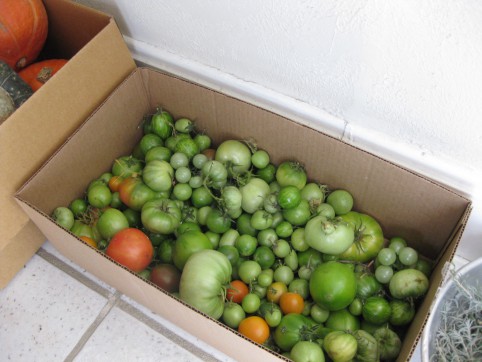 I got a question the other day about what to do with green tomatoes… well, let me tell you!
Green tomatoes are always part of the Autumn routine for us. Once picked, most of them ripen over the coming weeks, and some years we're still eating homegrown tomatoes past Christmas!
*****
Here's how I handle all the tomatoes that we pick before the first frost hits:
1. Usually I leave the tomatoes hanging out in an uncovered cardboard box for several days or a week. This is usually because I don't get around to addressing them, but it also allows the close-to-being-ripe ones to ripen more fully.
2. When I'm ready to deal with them, I gather a few cardboard boxes and some newspaper. I go through the tomatoes, separating ones that are showing signs of ripeness (light blushes of color or softening flesh) from the rest that are still very hard and green.
3. Put the ripening ones in their own box or paper bag, and check them every day or two. Or, leave them out on the counter.
4. I put the rest into boxes — only one layer thick — and then lay some sheets of newspaper on top. Over the years I've evolved through several methods of green tomato storage, and this is the one I've settled on. It's my favorite because it's the easiest, with the fewest tomatoes lost to mold.
Methods I've used in the past include:
– I used to cut squares of newspaper and wrap each tomato individually — unwrapping, checking, and re-wrapping them each week, and marking with highlighter the ones nearing ripeness. This is not only an insane amount of work, but it's also totally unnecessary. There are easier ways to get the same result.
– After I evolved away from that, I would use only one box and put multiple layers of tomatoes in the box, separated by sheets of newspaper. This was a little better, but still involved removing layers of tomatoes and newspaper, checking, and re-layering.
5. Ok, so anyway, you'll have multiple boxes with tomatoes only one layer thick. For this reason I like to use wide, shallow boxes. The boxes can be stacked as long as they're supported by the sides of the box below and not resting on top of the actual tomatoes.
6. Keep your boxes in the coolest place in your house. Perhaps that's a coat closet in your foyer, or in your basement. For us, it's in the stairwell that leads from our apartment to our outdoor side entrance.
7. Check your tomatoes at least weekly. It's as easy as peeking under the newspaper. I like to move the nearly-ripe tomatoes to the top of the newspaper so that I can watch them and grab them when they're ready.
8. Not all the tomatoes will ripen. Some are just too small and green to hold much promise of ripening, so this year I'm going to pickle them exactly the way I pickle cucumbers, using my trusty pickle recipe.
*****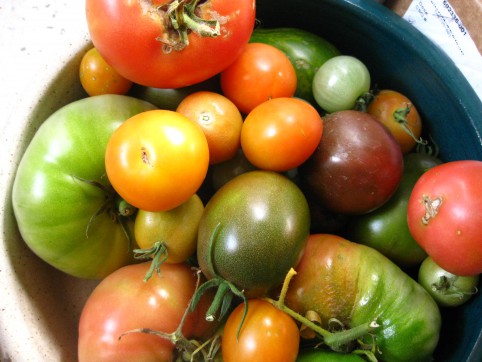 *****
Do you have a good way of ripening your green tomatoes, or perhaps a good recipe that calls for green tomatoes?
*****
5 Responses to "How to Ripen Green Tomatoes"