Mmmm, challah bread! The perfect holiday treat for your own family, or a friend! Challah is a traditional Jewish bread eaten on the Sabbath and on holidays, and is usually parve (made without milk or meat); this recipe isn't parve (okay with me since I'm not Jewish), but if you'd like it to be, just substitute oil for the butter.
Here's the challah recipe that I've used for many years (plus my tips for success), as well as video instructions on how to do a pretty 6-braid loaf.
Before we start, know that this bread requires two risings. Keep your eye on the dough — once it has doubled each time, move onto the next step promptly. I wouldn't recommend leaving to go shopping and letting it over-rise and sit around too long, because the yeast will consume more sugar than you want, and the resulting bread will be more yeasty and not as subtly sweet; if this happens, the bread will still be good, but not as good.
Ok, let's get started!
***
Challah Bread
7/8 cup water, at 100° – 110°
2 tsp active dry yeast
1/4 cup honey
2 eggs at room temperature
1/4 cup butter, melted
1/2 tsp salt
4 cups flour (I like using half white, half whole wheat…all white is yummy but not as healthy…or you could also use all whole wheat)
For the egg wash: 1 whole egg + 1 Tbsp water
***
Proof the yeast by stirring it into the water and letting it sit until it's bubbly and foamy on top, about 5 or 10 minutes.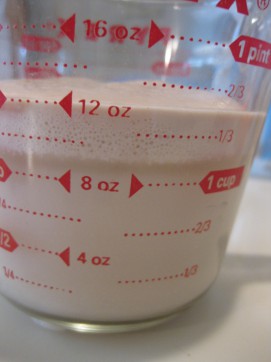 Meanwhile, melt the butter and warm the honey if needed so that it's free flowing.
Stir the salt into the flour in a large bowl, and add all the other ingredients (yeast water, honey, the 2 eggs, and butter).
If you have an electric stand mixer, now would be the time to use it, allowing the dough hook to knead the dough for several minutes.
If, like me, you don't own a stand mixer, no problem! — with a wooden spoon, stir until a dough forms. With the same wooden spoon, pretend that you are the stand mixer. Knead the dough as best you can for several minutes, until smooth, using the spoon — digging into the center of the dough, twisting, lifting, dropping. I've made this bread many times and discovered that you want to add a bare minimum of extra flour, or else the resulting bread will be too dry. When kneading with a wooden spoon in the bowl, you won't be tempted to add flour since the dough won't be sticking to your counter, to your hands, etc., while you knead. (You can also knead with your hand inside the bowl! Either way works just fine.)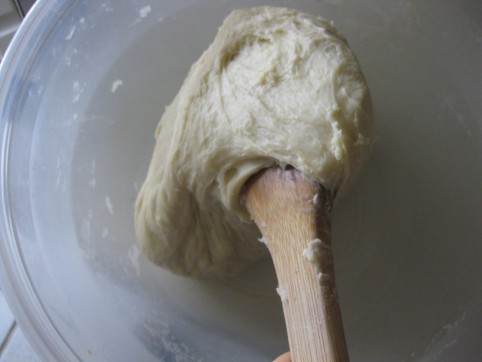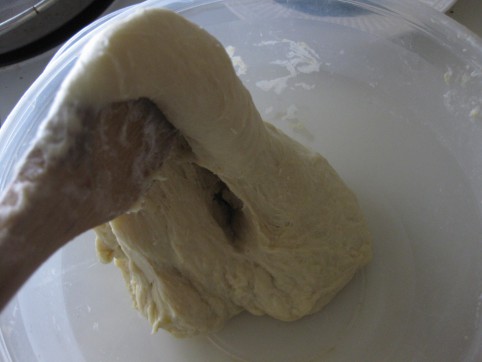 Now, with the dough in the bowl, cover the bowl completely with a lid, plate, or plastic wrap.
Set aside to rise until doubled in size. To speed the process, I like to turn the oven on for a minute or two, then turn it off (test with your hand to be sure it's only just warm) to create a slightly warmer environment than the ambient temperature in my kitchen… then put the bowl into the warm oven.
Once it's doubled in size, punch it down and gather the dough into a loaf shape, cutting it into six pieces of equal size. Feel each piece with your hand, re-distributing dough from piece to piece until they all feel about the same.
On a lightly floured surface, roll each piece of dough into a rope as long as you like; mine usually end up about 18″ long.
Lay your ropes onto a cookie sheet covered with parchment paper (you can, instead, grease a cookie sheet generously, but I find that parchment is really a good tool in this situation, otherwise the egg wash tends to glue the edges of the bread to the sheet, making it a little hard to get off. You can certainly do it that way… but if you have parchment, use it here.) 😉
At one end, pinch the ropes together, and now you're ready to braid! Watch the video below for instructions on how to do a 6-braid loaf (it's not hard, and the end result looks very impressive!).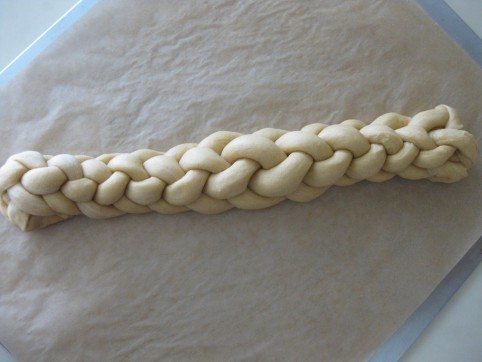 Once you've braided your loaf, it needs to rise until doubled in size. I've tried covering the loaf with wax paper, plastic wrap, a damp tea towel, and they always stick to the loaf no matter what. My favorite method, therefore, is this: turn on your oven for a minute or two until it's slightly warm, and then turn it off. You don't want it too warm! Meanwhile, boil some water. When the water boils, pour it into a couple of mugs, and place those in your warm oven. Put the uncovered braid into the warm oven, and close the door. (I like to turn on the oven light to add a little more warmth too.) This way, your braid can rise without anything covering it, and because of the high humidity, it won't dry out while rising. Because of the warmth and humidity, this step may go fairly quickly, so keep tabs on the braid.
Once your braid is doubled in size, take it out of the oven. Preheat the oven to 375°. While the oven's heating, make an egg wash by combining 1 whole egg and 1 Tbsp of water in a small jar and shaking vigorously. Using a pastry brush, paint the egg wash onto the braid.
When the oven is hot, put your braid onto the middle rack and bake for about 15-20 minutes, until the top is golden and the underside is lightly golden, but not overdone. Try not to over bake, as that will also dry out the bread. You want the top to be golden, but not too dark.
A nicely done underside will look like this. See how it's golden also, but not too dark?
Let the bread cool, and enjoy! It's delicious fresh, but also keeps nicely on the counter; seal it inside a bag to keep it from drying out.
It's a wonderful gift to give, too!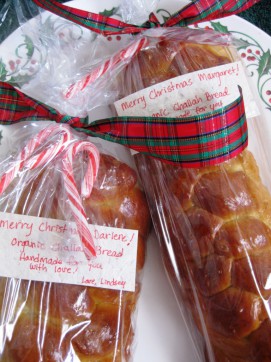 *****
4 Responses to "How to Make a Beautiful Loaf of 6-Braid Challah Bread"