***
With an eye toward Thanksgiving this week, here's my own recipe for classic pumpkin pie, along with my own crust recipe.
Neither recipe is the most decadent you'll find out there because heavy, fatty things don't agree with me. So if you're wanting to make a pumpkin pie that's on the lighter side, try this one. I make it every Thanksgiving. The crust is not really rich and flaky, and probably won't wow any chefs out there, but it is humble and it does the job. I like it.
***
Lindsey's Classic Pumpkin Pie
Rounded 2/3 cup of rapadura (or white or brown sugar)
1/2 tsp salt
1 tsp, heaping, of cinnamon
1/2 tsp, heaping, of powdered ginger
1 tsp allspice
1/4 tsp ground cloves
1/4 tsp nutmeg
2 eggs, beaten
3/4 cup whole milk
3/4 cup half-n-half (light cream)
1 15-oz can Libby's pumpkin (or 2 cups cooked pumpkin or winter squash, pureed, and cooked down if too watery — the healthfood store brands of canned pumpkin are way too watery. I learned my lesson to use Libby's!)
1 9-inch pie shell (recipe below)
***
Preheat oven to 425°.
Mix sugar, salt, and spices in a small bowl.
Beat the eggs in a large bowl, then stir in pumpkin, sugar-spice mix, and the milk and half-n-half. Mix until thoroughly combined, but don't get overzealous (like, don't do what I did once and overbeat with egg beaters — it beats too much air in, and makes a souffle-type thing!)
Pour into unbaked pie shell.
Bake at 425° for 15 minutes, and then reduce temperature to 350° and bake 40-50 more minutes until a knife inserted into the center of the pie comes out clean.
Cool on a wire rack for at least 2 hours.
♦♦♦♦♦
Lindsey's Not-Too-Rich 9″ Pie Crust
2 cups flour (whole wheat, or white, or a combo)
1 Tbsp sugar
Scant 1/2 tsp salt
6 Tbsp cold butter, cut into pieces (salted or unsalted, either is fine)
Ice water (you'll use about 3/4 cup)
***
In a medium bowl, combine flour, sugar, and salt. Cut in cold butter.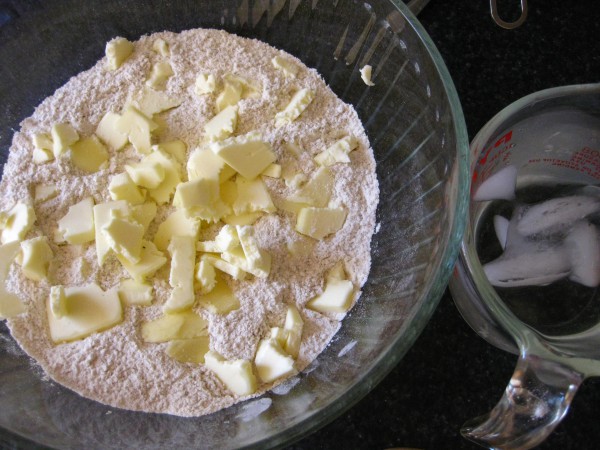 I like to use my fingers to rub in the butter and blend until the mixture resembles coarse crumbs.
Mix the ice water in, 1 Tbsp at a time, stirring lightly with a fork after each addition, until a dough is formed. (3/4 cup is about 12 Tbsp.) Try not to overwork the dough. Small bits of butter will be visible — this is what you want.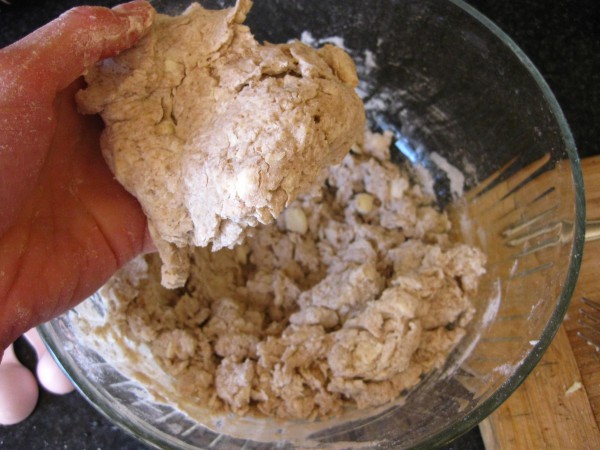 When a good, workable dough is formed — not too dry, not too sticky — wrap in cellophane and refrigerate until ready to use.
When ready to roll out, lightly flour your work surface and rolling pin.
Roll into a circle. Transferring to your pie plate is made easier by folding the dough in half and draping it over your rolling pin.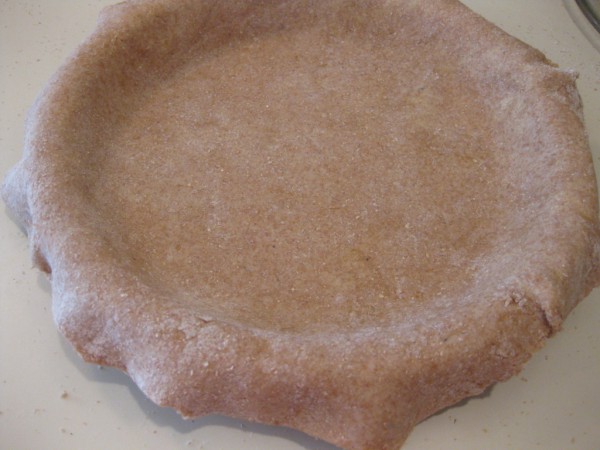 Trim off any excess dough, but leave enough extra around the edge to fold under and crimp with three fingers, as in the photo below.
If you do have a little extra dough, you could use a cookie cutter to cut out a little something-or-other (a maple leaf, for example) that you can bake and then place on top of your finished pie as decoration.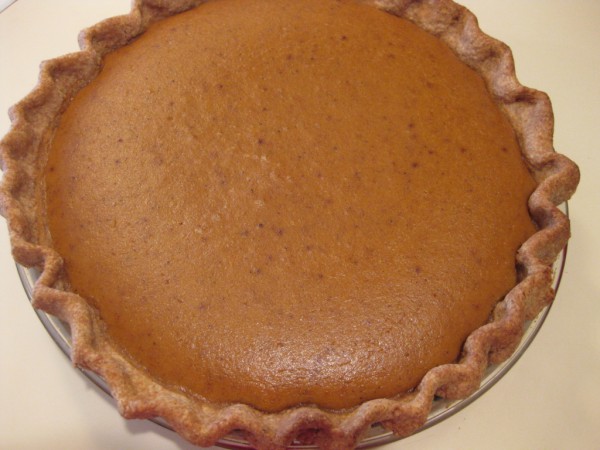 *****
One Response to "Classic Pumpkin Pie"