So I peeked into my remaining three bags of lettuce from the garden this year, and discovered that they were starting to go south and needed to be used right away. I separated out the slimy leaves, washed the rest, and had an idea! I'll make green smoothie frozen concentrate cubes!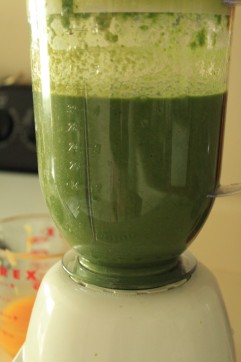 To make the concentrate:
1. Pour some kefir, water, juice, or watered-down yogurt into a blender. You won't need too much — just enough to get everything to blend together smoothly.
2. Add lots of greens. Ideas are: lettuce, spinach, beet greens, chard, lambsquarters, purslane, mint, parsley, cilantro, edible flowers, etc. (Kale is the only one I don't like in a shake, but if you do, go for it!)
3. Start the blender and let it run until you have a uniform slurry.
4. Pour into ice cube trays and freeze.
To use:
When you're ready to make a green smoothie, thaw out some cubes; I usually use 2 cubes when I make a shake for myself. Add the green liquid to your blender containing the rest of your smoothie ingredients — I like to use fruit and kefir with some ground flax seed and vanilla extract. Blend & enjoy. Yum!!
*****
If you're curious about green smoothies, you might check out the book Green for Life by Victoria Boutenko, or the related website. My friend Sasha recommended this book to me, and I loved it! While I don't agree with absolutely everything in the book, I'm glad I read it.
*****
By